Do you want to know more about our LepiVits Belgium's laboratory ?
Discover our expertise, our values and how we operate our production lines as a pharmaceutical
laboratory making nutritional supplements LEPIVITS .

About LepiVits Belgium ®
who are we ?
LepiVits Belgium is, before all, a family's journey that started 30 years ago under the name "healthcraft".We have been based in Belgium since the start of our laboratory.
 Nutrition is getting more attention since it has been proven that it plays a major part in taking care of one's health, the nutritional hygiene is essential in incorporating health care.
Through bringing together our scientific knowledge in the fields of Phytotherapy and Nutritherapy, our laboratory has become specialized in producing natural Nutraceuticals.
Our young and dynamic team consists of one chemist, a pharmacist and a biologist/ a nutritional therapist. We stay updated on the last scientific research, we collaborate with a multidisciplinary medical team: doctors, nutritional specialists, diverse therapists like naturopathics and homeopathic.
Our laboratory LepiVits Belgium creates a range of nutritional supplements LEPIVITS, according to our values:
-   Affordable prices to everyone;   
-   An impeccable pharmaceutical quality ;     
-   An eco-friendly packaging;   
-   Clean and sustainable nutritional supplements; respecting ethical and social production principles.
Our expertise
Our pharmaceutical laboratory makes nutritional supplements that fits everybody's needs: Elders, adults, teenagers and kids. In order to make our nutritional supplements clean, we use biologically available micronutrients that do not contain any harmful substances (synthetic preservatives, irradiation, titanium dioxide, iron oxide, etc.), and that are highly assimilated by the body, for a real effect on health. The nutritional supplements LepiVits are in compliance with the current quality rules:
- GMP & HACCP rules (ISO 13485 22000);
- Certified by the Belgian federal agency of the security of the food chain (AFSCA);
- Authorised to be sold internationally.
Our objectives
LepiVits Belgium is a human laboratory that aims, before all, to resolve public health problems:
- Fight malnutrition and lack of nutrients;
- Fight pathologies caused by pollution;
- Prevent diseases through good nutrition;
- Wards off health problems caused by a sedentary lifestyle;
- Act against the effects of stress such as influencing the quality of sleep and immunity and nutritional deficits;
- Finding alternatives to the overconsumption of medication.
Daily we receive an increasing demand from people who want to take care of their health using natural and healthy products. We create our products with this in mind, because natural remedies are our passion.
Our products are:
- Clean; has no chemical excipients, no lactose, no nanoparticles, no pesticides, no GMO, no preservatives;
- Transparent, no hidden components;
- Effective: with proper consumption, thanks to a synergy of active ingredients for a real high-value nutrition;
- Accessible: for an affordable price adapted to children through seniors and for every need.
Our nutritional supplements vegan, gluten and nanoparticles free and without lactose. Thus, convenient for vegan, gluten and lactose intolerance.
Our values
Our values stem from producing clean nutritional supplements:
- A family business that is humane;
- Nutrition and micro-nutrition expertise;
- Ethical; short and local circuit;
- Natural components: Pullulan pills, vegan and 100% natural excipients;
- Eco-friendly : recycled containers that are made ethically and are long-lasting;
- Great value for money; so that health is affordable for any budget.
Discover the advantages of LEPIVITS' range.
Lepivits laboratory's chain of production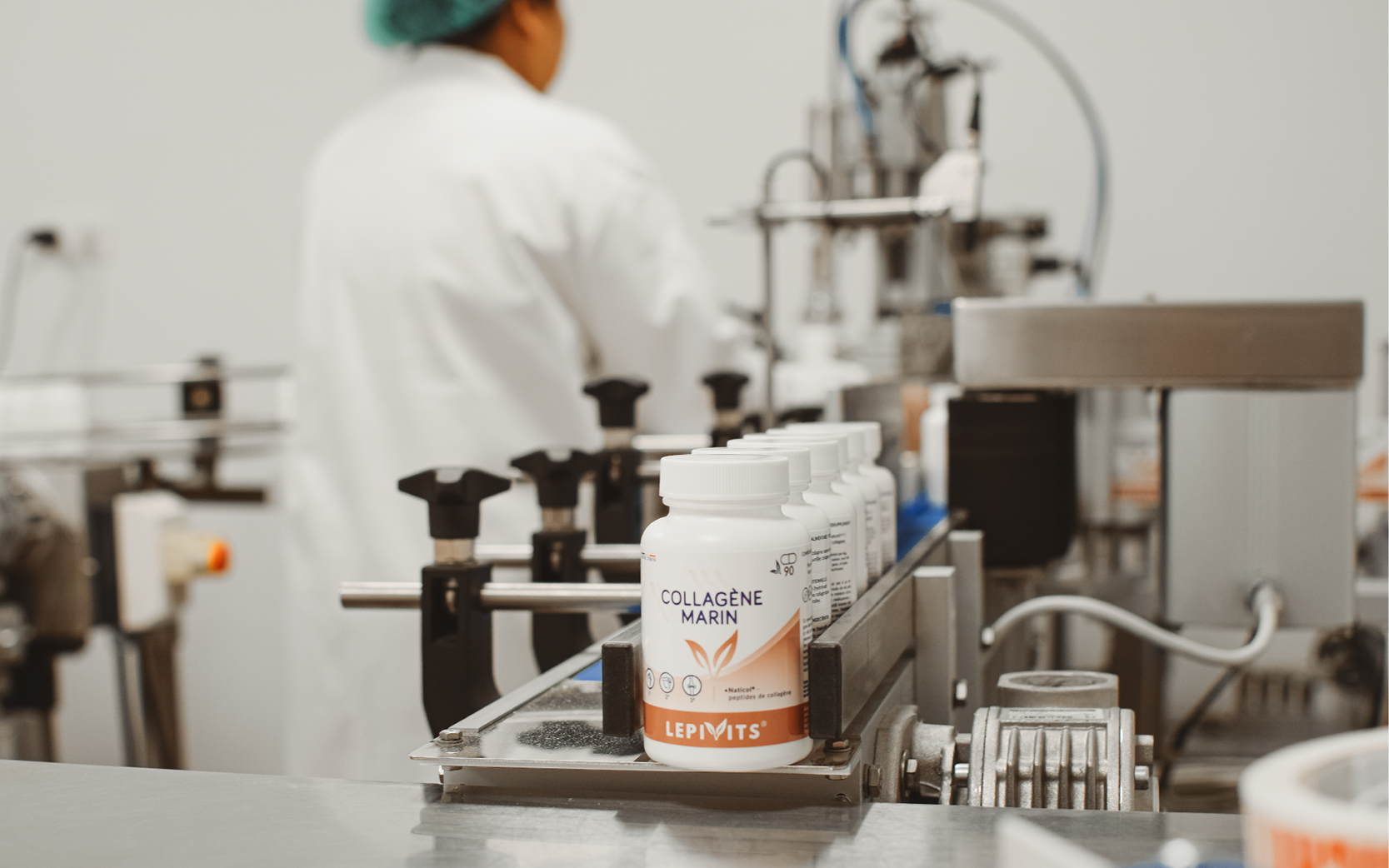 To be sure that our values ​​and ethics are respected, we limit the intermediaries in the production chain of our products. We control our local raw materials and carry out the specifications of our formulations. The manufacturing is based in our laboratory and supervised by our scientific team so that no chemical solvents are used. Our production line is equipped with a capsule filler compatible for the design of food supplements based on Pullulan capsules. We thus avoid the use of HPMC vegetable capsules. Plantcaps® pullulan capsules contain no chemical additives, are non-allergenic, and offer a better barrier against oxygen. The active ingredients contained in the capsules are then better protected, to be better absorbed by the body. Once our capsules are produced, they are packaged in eco-responsible containers. Our production line is subject to national and European regulations (royal decree of March 3, 1992 & framework directive 2002/46 / EC, etc...).
What is LEPIVITS?
LEPIVITS aims to bring awareness about the care through nutrition and micro-nutrition for more people. Thus, on our health blog we offer articles and pieces of advice and information on nutritional hygiene. It is created in hopes of it reaching the public to better their health, but also to doctors and therapists so that they stay updated and informed.
In addition, our website provides LEPIVITS food supplements at the best of prices.
We are currently developing healthy cures to meet the growing needs of our customers. These cures will be specific to each need, with all-in-1 packs, while focusing on favoring a healthy and balanced diet.
Lepivits ambassadors
We are collaborating with more than 100 doctors and therapists whose expertise is in functional medicine. The therapists help guide and give specific instructions on how to better your health, whether you're an athlete, a student, a senior student or pregnant, etc.
You can check the list of these doctors and therapists on our page.
Our partners
You can find Lepivits' range of products directly in pharmacies, drugstores and bio stores. Check out the list of our reseller on our page our partners.
List of pages in Lepivits Belgium laboratory - nutraceutical expertise !: